The Rollie Denison Leadership Institute
" We are not just problem solvers, we are possibility makers."
If anyone could justify having a multi-page resume, it would be community member and CMU alumnus George Roland Denison. Called "Rollie" by his friends and family, Denison contributed not only money, but personal time and dedication to the university and Mount Pleasant.
"I think he was the finest example of a community leader anyone could ask for or emulate - an outstanding gentleman," said Tom Sullivan, CEO of Firstbank Corporation, who worked with Denison on several community organizations. Denison was a big supporter of the university and a "proud alumni," said George Dunn, President of Middle Michigan Development Corporation, an organization Denison helped found and served on as a lifetime member of its board of directors.
Denison graduated from CMU in 1941 with a bachelor's degree in business education, with minors in physical education and social science. He earned three varsity letters in both football and baseball and helped organize the CMU chapter of the Sigma Tau Gamma fraternity. He received the fraternity's National Distinguished Service Award in 1970.
Since his graduation, Denison continued his involvement by forming CMU's Century Club, serving as chairman of the Development Fund and a member of the Business School Advisory Committee. "In all my years in higher education, I've known just a select few individuals who provided extraordinary support, leadership and care for their alma maters," said University President Michael Rao.
Denison rarely missed a basketball or football game, no matter how cold the weather, Dunn said. At one point, Denison knew more than 20 of the professors whose names appear on campus buildings. In addition, Denison worked as a driver for former University President Charles Anspach while in school. "He truly valued his relationship with the university and enjoyed interacting with students, faculty and staff, and attending university events," Rao said. CMU recognized his support in 1967 with the 75th Anniversary Award, an honorary doctor of public service in 1984 and the Centennial Award in 1992.
It was at the university that he met his wife of 61 years, Olga. Fred Bush, for whom Bush Theater is named, sang at their wedding. Together, Rollie and Olga Denison raised three children: Spencer Denison, Diane Denison Dahnke and Daniel Denison. He also had five grandchildren. "They raised a very good family, him and Olga. All of them are achievers," said Dean Eckersley, Denison's partner of 20 years at Lease Management, Inc., an oil and oil fields development firm Denison presided over from 1959 to 1996. "Denison became not only a business partner, but a very good friend," Eckersley said.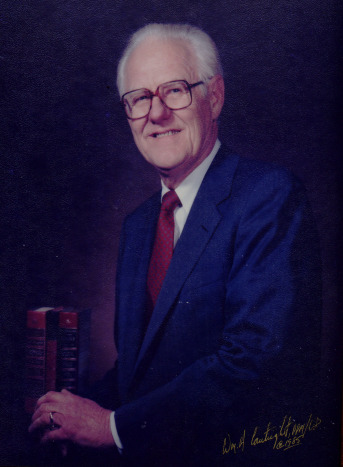 Denison sold Lease Management Inc. to employees Rudy Clair and Jack Harkins, who said Denison was his mentor and one of the finest human beings that ever lived. Denison also created Denison & Associates Inc., another oil-related business, and was the owner and president. "He was a man of very high integrity, very honest and loyal to his employees," Eckersley said.
Denison's community assistance extended beyond business to incorporate both government and culture. He served as Mount Pleasant's mayor in the 1950s and acted on many governmental organizations and boards of directors. Denison and his wife also were a driving force in the establishment of Art Reach of Mid Michigan. The recital hall at the Community Art Center is named in Denison's honor. "How they had the energy into their 80's to keep up that kind of pace is just amazing."
Denison's only fault was he worked so hard he did not have time for "Rollie recreation," Eckersley said. "He gave much and took little."