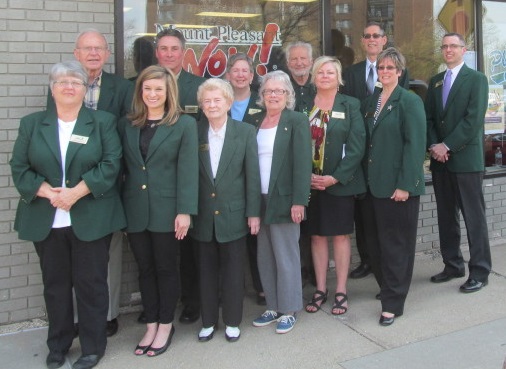 About the Ambassador Program
Chamber Ambassadors are the Chamber "eyes and ears" on the street. This is a great group of friendly and outgoing volunteers that call on member businesses each month for input on Chamber membership and activities. Ambassadors also work as greeters at Chamber functions such as BAH: Business After Hours, BOB: Business Over Breakfast, the Annual Awards Banquet, ribbon cuttings, groundbreaking ceremonies, and open houses.
Ambassadors are a tremendous help to the Chamber as they provide us with updated news and information about our members. The number of Chamber Ambassadors is limited to 30. Preference is given to Chamber Ambassador candidates who have served on Chamber committees.
Mt. Pleasant Area Chamber Ambassadors
Karen Ansell, GreenStone Farm Credit Services
Joan Brasher, Self-Employed: Stay at Home Mom
Mike Carey, Mt. Pleasant Lions Club
Sarah Flannery, The Laurels of Mt. Pleasant
Angela Hine, Wildfire Credit Union
Shannon Luft, Independent Bank
Susan Massaway, Results Realty
Mike Miller, Commercial Bank
Jim Parsons, Century 21 Central Realty & Associates
Sherri Rosecrans, 95.3 WCFX – Grenax Broadcasting
Lorrin Rupert, Isabella Community Credit Union
Paul Scoby, Isabella Bank
Please submit an application, along with any questions, to Douglas Wallace, IOM, President & CEO. Your application will be reviewed and voted upon by the Ambassador Club when positions become available.