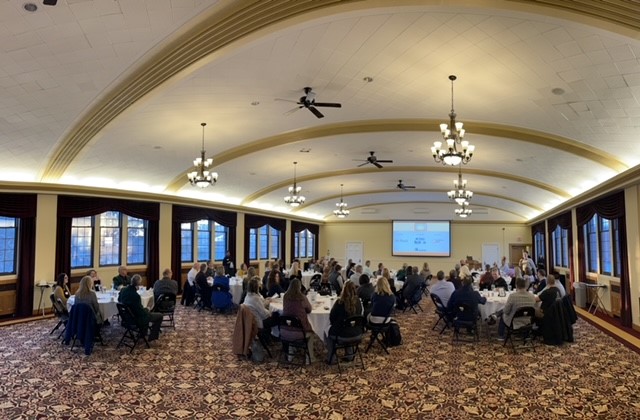 Business After Hours
Hosted by a different Chamber member each month, these casual, friendly networking events attract a crowd averaging 50-75  attendees who find these get-togethers to be an effective resource for making contact with both current and prospective clients. Members can also enter to win mic time to talk about their business. Some structured networking is part of the short program. Typically held on the third Tuesday of the month from 4 PM - 6 PM.
Daybreak Mt. Pleasant
New in 2023, Daybreak Mt. Pleasant is a quarterly breakfast networking event held in February, May, September, and November. This event features networking time along with a topic and guest speaker during the program. Typical attendance around 60-80 guests. The event runs from 7:30 AM - 9 AM.
Pop in 4 Lunch
Held on the third Wednesday of each month, this lunch time event takes place at various Chamber Member restaurants around the area. This provides a great way to network and is exclusive to Members only. Typical attendance average 25-35 attendees and the event runs from 11:30 AM - 1:00 PM.
Business Education Events
Economic Outlook Luncheon
This annual luncheon serves as an informational and interactive presentation on the current state of our economy, and the new laws and policies that will affect our local economy in the near future.  The luncheon is a great way to get your questions answered by economic experts in a smaller, more comfortable setting, with potential for one-on-one interaction with experts on the economy.
Spring & Fall Legislative Breakfasts
During these bi-annual breakfasts, state legislative panelists give presentations with the latest updates from Lansing, new policy initiatives and the most recent actions of the governor of Michigan. Presentations are followed by a Q&A period that allows attendees to ask more specific questions on issues that matter to them.