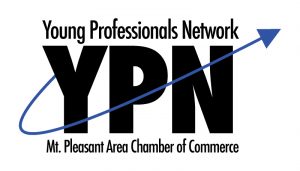 About Mt. Pleasant YPN
The Mt. Pleasant Area Chamber of Commerce Young Professionals Network in Mt. Pleasant, Michigan is a group of young professionals ages 20-40 that meets regularly to network, grow professionally and have fun! YPN provides tools young pros can utilize in a real-world setting. Whether you are just starting out in your career or are fairly established, you can benefit by joining YPN. As a young professional in the Mt. Pleasant area, you are an asset to this community and we would like to help you become successful in your future endeavors!
Become a Member | Annual Membership: $40
The annual membership fee, billed in June, is $40 with additional low-cost admission for certain events. Employers are encouraged to support their young professionals through learning about the program and assisting with program fees if possible. Mt. Pleasant YPN members are also expected to attend at least 5 YPN events each year. The goal of the Mt. Pleasant YPN is to help young professionals in the Mt. Pleasant area gain professional development, networking and volunteer opportunities.
Join us for YPN Social & Professional Events
The Mt. Pleasant Young Professionals Network meets monthly to practice networking, learn what our fellow YPN members do professionally, learn about opportunities to get more involved in our community, and have fun!
General Membership Meetings take place the 4th Tuesday each month. Locations and times may vary - so be sure to check the events calendar!
Contact Us!
Please contact Hannah Martin at hmartin@mt-pleasant.net or call the Chamber at (989) 772-2396 to be added to the YPN mailing list. You may also contact Hannah with questions, comments, to sign up, or to give ideas on a topic for a program! Be a part of something truly special!