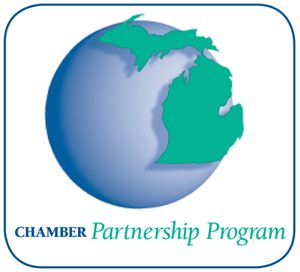 The Mt. Pleasant Area Chamber of Commerce is proud to partner with the Michigan Chamber of Commerce to offer our membership exclusive discounts on your everyday business needs, and premium opportunities to maximize your business potential through the Chamber Partnership Program! To utilize these services, you must be a member of the Mt. Pleasant Area Chamber of Commerce and use the unique promo code when you purchase a product, register for a seminar/webinar or participate in a service. Click the images below to find out more about each service.
Michigan & Federal Labor Law Posters/Compliance Guides
Mandatory Labor law postings for employers come from a wide variety of different government agencies and The Michigan Chamber of Commerce stays on top of all changes and consolidates them on laminated posters with all of the required notices. They also offer employment guides covering state and federal employment law topics for all Michigan businesses, including the Employment Law Handbook, Guide for Employee Handbook Policies, Unemployment Insurance Guide, and Employee Electronic Use.
Seminars and webinars are offered every month mainly in the areas of human resources/labor law, tax and finance, safety compliance, environmental compliance and management/supervision. They can also customize training for you through their contract training service.
The Michigan Chamber of Commerce provides electronic Certificates of Origin services through an online portal that is secure, simple and fast. They also have certified staff through the international Chamber of Commerce to ensure compliance and reduce risk.
Workforce Development Solutions
It is no secret that Michigan businesses of every size, location and industry are facing immense talent shortages and challenges. The new workforce solution, EmergeSkilled is a comprehensive, easy-to-use online platform to connect employers with students who attend high schools, including Career Technical Education (CTE) programs, trade schools, community colleges, certificate programs, and bootcamps. Match skills with your needs and opportunities.
Identity Theft Protection
Everybody knows identity theft is a serious and escalating problem for employers and employees that can result in huge financial losses, lost productivity at work and extreme personal stress. As a result, identity theft protection services have quickly become a highly valued employee benefit.
The Michigan Chamber of Commerce has partnered with IdentityForce, the industry-leading provider of identity theft protection services, to deliver the highest-quality and most cost-effective solution for employers. Don't miss this opportunity to help employees protect themselves from becoming victims of identity theft.
Unemployment Insurance Assistance
Working through Michigan's unemployment insurance system is not an easy task for employers and trying to get answers to questions is often an exhausting process. The Michigan Chamber of Commerce assists employers with this complicated process and helps reduce and control unemployment costs, with a complimentary advisory hotline, plus consulting, benefits administration and compliance services.
Employment Law Assistance
Staying up to date with the latest state and federal labor changes and requirements is important to any business. Employment laws are complex and ever-changing, putting businesses at risk for huge financial penalties as a result of non-compliance. As a Michigan Chamber member, you can receive free information to protect your business and ensure compliance with current federal and state labor employment laws.
MI Chamber members with 10–150 employees can participate in the Michigan Chamber multiple employer 401(k) Plan (MiMEP). As a small business owner who is looking to attract and retain quality employees, you look for resources that will give you a competitive advantage and allow you to provide financial stability for your workforce.
The Michigan Chamber offers a program to help you manage and significantly reduce your utility and telecommunication costs with real savings, refunds and credits.
They perform a thorough analysis of your utility billing, to investigate potential billing errors, recover overpayments, and discover, negotiate, and activate future savings opportunities for you.